Body
Amid Thomas fire, farmworkers weather risks in Oxnard's strawberry fields
As the Thomas fire raged in the hills above Oxnard, shops were empty and streets were silent. Smoke shrouded the seaside town, making it dangerous to breathe without respirators, according to public health officials.
But in the vast strawberry fields outside town, work continued as usual.
Many farmworkers didn't have face masks until days after public health officials declared the air hazardous, according to labor right groups, which distributed more than 2,000 respirators.
Their move was welcomed by workers in the berry fields, but angered the growers, according to Lucas Zucker, a labor activist who said he was kicked off a farm Dec. 7 while trying to deliver face masks.
"We've had some hostile interactions with farm owners," said Zucker, who volunteers with the Central Coast Alliance United for a Sustainable Economy, a labor rights group for farmworkers. "They tell us they've given face masks to the workers and that [the workers] choose not to wear it."
Despite stricter labor laws and technological advances over the years, the flare-up during the Thomas fire shows how California's longest-simmering labor conflict has never cooled.
Agriculture and labor strife are both deeply tied to Oxnard's history.
The region flourished in part thanks to farmworkers, many of them immigrants from Mexico, who grew lima beans and barley. In 1903, the year the city of Oxnard was incorporated, Japanese and Mexican sugar beet workers declared a strike against bank owners and merchants who had slashed wages by 50%. After a near-shutdown of Oxnard's agricultural industry and weeks of protests — including one in which a Mexican worker was shot to death — wages increased.
Agriculture remains a major industry in Oxnard. There are about 36,000 farmworkers in Ventura County, many of whom work on Oxnard's strawberry fields — a $2.3-billion industry in California.
Because of the unpredictability of the winds, the Thomas fire put farm owners and companies in a precarious situation: risk the harvest by closing down until it was safe to resume, or continue operating under difficult conditions, said John Krist, chief executive with the Farm Bureau of Ventura County, an organization that advocates for growers.
"Growers can't go three or four days without harvesting strawberries or they risk losing the crop," Krist said.
"You don't want to see fruit lost, but you also fear compromising the safety of the workers or the product itself if ash fell on it."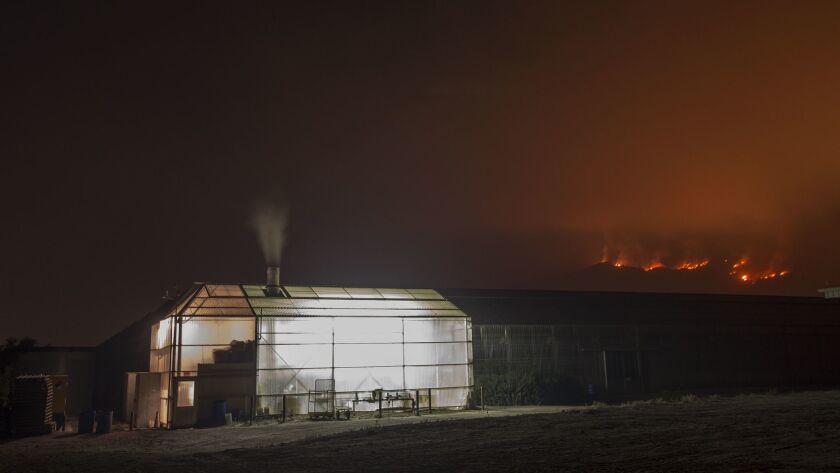 During wildfires, California law requires employers to protect workers from inhaling air that could result in injury, illness, disease or loss of life. If workers will be exposed to dangerous air, employers must provide protective gear.
In the early days of the fire, which is approaching its third week, municipalities and agricultural groups including the California Strawberry Commission and the Farm Bureau of Ventura County advised growers of the risk posed by poor air quality and urged them to distribute face masks or halt operations.
The state's Division of Occupational Safety and Health — better known as Cal/OSHA — informed growers of their responsibility to provide respirators or shut down. The agency has been following up on reports of violations during the Thomas fire, spokeswoman Erika Monterroza said.
Some berry farm owners closed in the first and second weeks of the fire.
Reiter Affiliated Companies, which grows Driscoll's berries, sent home more than 1,000 farmworkers this week and growers monitored air quality on an hourly basis to assess whether conditions remained unsafe, spokesman Robert Chevez said.
"Since the onset of the fire, the safety of our workforce has and will continue to be our top priority. When conditions improved, each farm had discretion over whether to resume operations or not," Chevez said.
Others stayed open.
Doing so meant pay for farmworkers, who are compensated only for the hours they spend on the fields. But some farms that remained open failed to distribute masks, according to labor activists and one farmworker who spoke on the condition of anonymity because he feared he would be fired.
The worker, who picks strawberries in Oxnard, said his employer did not provide a respirator during the first four days of the Thomas fire, leaving him with a burning sensation in his eyes and nose.
"One of my friends started to get a nosebleed," he said. "They want us to continue working so that the strawberries aren't ruined by the dust and ash."
Rob Roy, president of the Ventura Agricultural Assn., an organization that provides legal information to about 200 farm owners in Ventura County, said most farms follow the law. The reason, he said, is simple economics.
"Workers are valuable assets to companies, so farm owners wouldn't want to put people into harm's way," he said.
He blamed labor groups, saying they were exploiting the situation for their own gain.
"These advocacy groups are going out to private property and explaining to farm owners how to do their job," Roy said. "No one would like some third party explaining how to do their job."
Zucker and other activists don't dispute that they cross onto private property.
On the fifth day of the fire, Zucker and fellow labor activist Raul Lopez approached a group of workers taking their lunch break on a strawberry farm near Harbor Boulevard to hand out masks.
A supervisor cut them off before they reached the workers.
"We are not trying to force anybody to do anything," Lopez said in Spanish, putting the box into the supervisor's hands. "We are just trying to make sure the the workers know that they are available if they want one."
As Lopez turned to walk away, a farmworker shouted: "So you left them, right?"
"Yes, I did," Lopez said.
Such a standoff doesn't surprise Frank Barajas, a history professor at Cal State Channel Islands who has studied farm labor in the region.
"A tradition of resistance and organization in the farm working community" — sparked in party by the 1903 strike — "got passed down," he said.
The dispute about respirators, Barajas said, can be seen as the latest chapter in a fight that, after decades of protest, has granted farmworkers in the state the right to unionize and guarantees of paid overtime.