Body
California mudslides: as wealthy town recovers, undocumented are left behind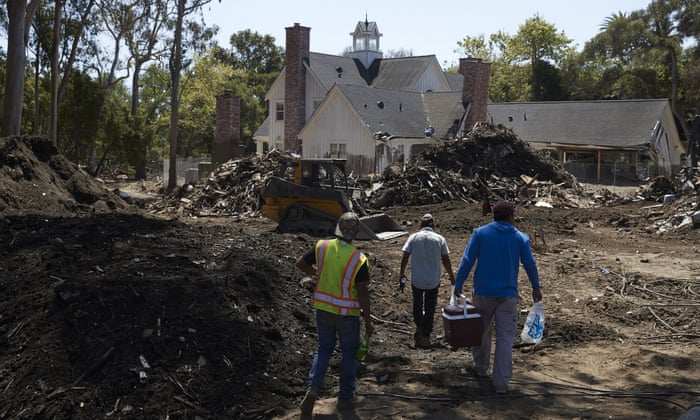 Workers living paycheck to paycheck find they will not be paid for lost time – and without papers, many lack recourse to emergency funds
Workers walk past a pile of mud and debris outside a home heavily damaged by a mudslide in Montecito, California. Photograph: Jae C Hong/AP
After wildfire and mudslides ravaged Montecito, the little California town had at least one consolation: the trauma united the community.
Everyone had suffered in some way. Flames scorched the hillsides last December in the biggest wildfire in California's modern history. Weeks later torrential rain unleashed huge mudflows, killing at least 21 people, destroying dozens of homes and forcing thousands to flee.
The grief and devastation prompted an outpouring of solidarity for this bucolic town, one of America's wealthiest communities, which nestles in Santa Barbara county on the Pacific coast, 90 miles north of Los Angeles.
"We're going to come together and do what great Americans do all the time. We're going to help each other," said Oprah Winfrey, one of many celebrity residents.
Now, three months after the mudslides, normality is returning. Roads and businesses have reopened. Insurance companies have started paying some of the claims totalling $421m. Tourists are back. The town's carved, hand-painted street signs are being repaired. "Signs of recovery," the Montecito Journal declared on its front page last week.
One segment of the population, however, is struggling to recover: the largely Latino service workers – maids, nannies, gardeners, caregivers, cooks, waiters, busboys – who earn near minimum wages and live in the shadows, paycheck to paycheck.
Many recently returned to work after enforced layoffs and discovered they would not be paid for any lost time.
"Not a cent," said Zita Nevarez, 38, a barista and single mother who lost six weeks of work. She was unable to pay rent or her daughter's school fees.
"I had hoped for some compensation from my employer, some help, but nothing," said Serafin Torres, 45, a maintenance worker who lost seven weeks. He has kiboshed a plan to buy a computer for his children.
Angelica Garcia, 30, a florist and single mother, could not pay utilities after losing three weeks' salary, resulting in her gas and electricity being cut off. "I have three children. It was very difficult," she said, tears welling.