Body
Oxnard, California: The City That Stopped A Gas Plant
When NRG Energy, one of the largest electric power producers in the country, won a contract to build a new gas plant on the beach in Oxnard, California, in 2014, nearly everyone assumed it was a done deal.
The region's electric utility, Southern California Edison, needed a new source of power to keep the lights on in moments of extreme need. But the working class, majority-Latino community was not enthused about the prospect of another industrial facility in its backyard. Power plants already bookend Oxnard's beach, about seven miles apart, the smokestacks looming over the coastal vista. A toxic Superfund site lingers nearby, the aftermath of a smelting plant that shut down years ago.
Local activists and city officials rejected the expectation that they should host another major polluter. They passed an ordinance to block new plants on the coast, and demanded that the state look for cleaner alternatives.
Such objections had failed to stop many a gas plant before, but this time, things veered off the usual playbook.
California leaders were already working to eliminate greenhouse gases from the power sector and curb the state's considerable contribution to climate change. A new ecosystem of clean energy companies emerged to provide equipment and software to generate and store electricity.
When state officials inquired in 2017 whether clean technologies could fill the role of NRG's gas plant, the answer was a definite yes. With that knowledge, regulators said they would reject the gas plant due to its environmental impact, and asked Southern California Edison to find clean energy projects to replace it.
The utility came back two months ago with a different vision for the city: a suite of batteries that can store the abundant solar power generated during the day and deliver it when needed.
This is the story of how Oxnard became a test case for California's effort to end reliance on fossil fuels and a model for communities struggling with their own contested power plants.
Getting Out The Ground Game
For NRG, the Puente plant was an effective answer to energy needs that state authorities had identified in 2013 as they prepared for several older plants to shut down.
But for residents, the proposed plant was another entry in a long history of having their home treated as a "dumping ground for industrial facilities," said Lucas Zucker, policy director at grassroots advocacy group Central Coast Alliance United for a Sustainable Economy (CAUSE).
Oxnard's population, roughly 200,000, is three-quarters Latino and more than one-third foreign-born. Many residents work in the fields that surround the municipality. Unlike wealthier beach towns nearby, like Santa Barbara or Malibu, Oxnard's strip of coastline doubled as an industrial zone.
"Oxnard has for decades borne the health and safety impacts and nuisances of several power plants in its community to power the entire region," said Gladys Limón, executive director of the California Environmental Justice Alliance (CEJA), which advocates at the state level on behalf of 10 local environmental justice groups, including CAUSE, to relieve the disproportionate burden of pollution on low-income communities and people of color.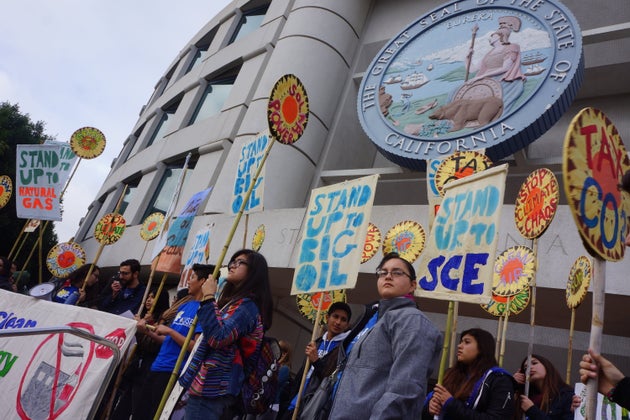 Limón grew up in Oxnard and recalled the eerie presence of one of the gas plants haunting her childhood beach outings.
"People just stay away from it," she said. "You inherently don't want to go near it."
CAUSE took the lead in organizing opposition to Puente, encouraging residents to show up for hearings and explain why they didn't want new fossil fueled infrastructure popping up near their homes and occupying their beach.
Spurred by the turnout, the city council joined the activists in opposition, unanimously passing an ordinance in July 2014 temporarily blocking new power plant construction on the coast. Mayor Pro Tem Carmen Ramírez, who proposed the measure, worked at CAUSE prior to running for office and said she didn't want to sacrifice the community's coastline and the health of people living near it.